We Grow People Producing Amazing Cannabis Enriching Lives
Its more than just a tagline – it is a reflection of our values and our commitment to making a positive impact on the lives of our employees and customers. We are dedicated to not only producing the finest cannabis strains and products, but also to fostering a culture of teamwork, compassion, and innovation that helps our team members grow and succeed. We believe that by investing in our people, we can produce amazing cannabis that enriches the lives of our customers. We are also committed to being a responsible and engaged member of the community, and we believe that by giving back and supporting the people around us, we can enrich the lives of those around us. Whether it is through our products or our actions, we are dedicated to making a positive difference in the lives of others.
Freedom Reserve
CBD 0.11%
THC +30%
Freedom Cannabis is proud to present RESERVE.  An expression of cultivation without compromises.  In fact, we even guarantee how incredible it is by offering +30% THC for our Reserve Indica and +25% THC for our Reserve Sativa along with +2% Terpenes… Every Time.  Our confidence is based on the execution of proven artisan gardening techniques and a passion to consistently deliver the finest cultivation possible.  Every detail is meticulously monitored including a 3 week flush, 2 week cold curing process and a zero tolerance commitment that our cannabis will NEVER be irradiated.  Lastly, Freedom focuses on providing the best consumer experience by offering only top canopy selection in a sealed NitroTin for optimal preservation and storage.  If you are looking to be impressed, then you are looking for Freedom Reserve.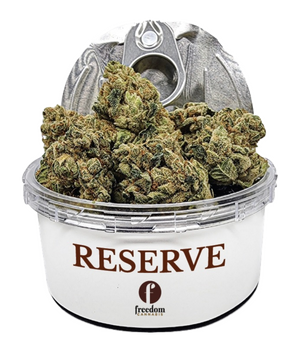 29% beta-Myrcene
24% Caryophyllene
18% Limonene
11% Linalool
28% Other
Purple Punch
CBD 0.07%
THC 22%
Purple Punch is an sedating indica dominant strain with THC levels between 20 - 26%. The aroma is fruit punch with notes of pine, blending perfectly with the breathtaking fruity flavour. You will know Purple Punch as soon as you smell it, but you can also recognize it by its green and purple hues. 
Look for this product in Alberta as pre-rolls and in Manitoba as a 3.5-gram product or pre-rolls.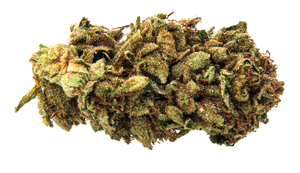 20% alpha-pinene
12% beta-caryophyllene
30% beta-pinene
12% myrcene
26% other
Slurricaine
CBD 0.07%
THC 29%
Slurricane is a indica dominant strain with a THC content of about 22-28%. The terpenes total between 2.5 and 4% and are highlighted with Caryophyllene and Limonene.  Slurricane possess a sweet flavour profile which features hints of sugary berries, gives it a sweet grapes and butterscotch.  The buds are dark green, accented with purple hues and feature a thick layer of trichomes.  

Look for Slurricane in BC, AB, MB, YK, NWT and NU.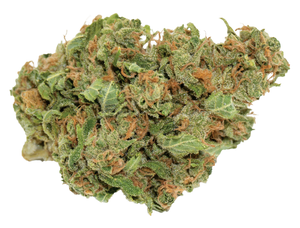 9% alpha-humulene
23% Beta-caryophyllene
31% beta-pinene
15% nerolidol
22% other
Wedding Cake
CBD 0.07%
THC 21%
Wedding Cake is an indica dominant strain with a THC content between 18 - 24%. The aroma is lemon citrus with a hint of pepper which is only enhanced by its tangy and sour flavour. The buds are light green with prominent orange pistils and appear frosty due to the layer of trichomes that coat the plant.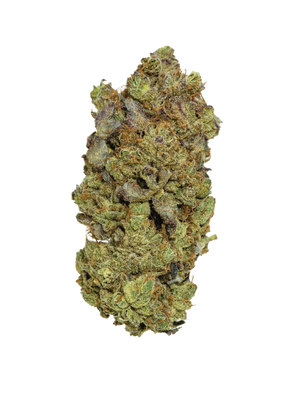 28% beta-caryophyllene
12% betapinene
11% d-limonene
22% nerolidal
27% other